There are some… interesting places out there. Places that need to be visited, to be experienced. Here's a Travelogue of Weirdness for you!
In no particular order…
---
1. The Flavor Graveyard
Location: Waterbury, Vermont
It's a legit graveyard for ice cream flavors that have been discontinued… or de-pinted. The website lets you vote on flavors you'd like resurrected, too. Visit the website here!
---
2. Museum of Death
Location: New Orleans, Louisiana
This place is macabre, for sure, but fascinating! There's everything from serial killer artwork to vintage funeral emphemera, as well as antique mortician instrumentation.
---
3. The Giant's Causeway
Location: near Belfast, Ireland
image: Wikipedia
The Giant's Causeway was formed sixty million years ago when a volcanic eruption flowed with molten basalt. The material solidified and contracted as it cooled, creating an mesmerizing array of polygon columns. They are very geometrically precise, and the local legend is not about the volcano, but that they were created by a giant.
---
4. Cat Island, Japan
Location: Aoshima Island, Japan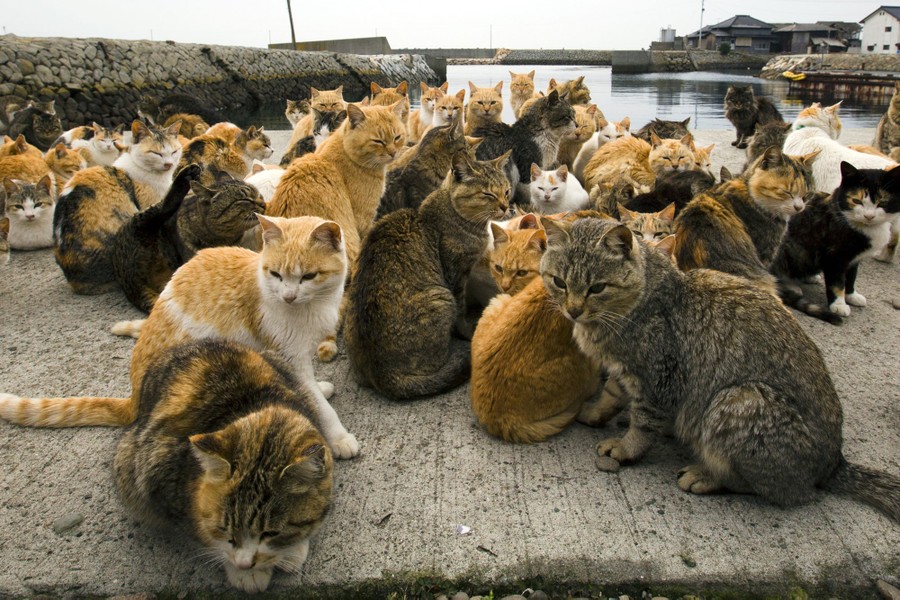 image: The Atlantic
This is actually one of approximately a dozen cat islands, places where the cats outnumber the humans. There are more than a hundred cats on this island, about seven per human.
---
5. Lanai Cat Sanctuary
Location: Lanai, Hawaii
Here's another cat sanctuary, on a neighboring island from where I live. It not only protects cats but helps to preserve native, endangered birds, too. It's 3.5 acres of lush tropical land for the more than 600 cats that you can visit and play with.
You can also donate to the sanctuary here.
---
6. Die Rakotzbrück
Location: Kromlau Park, Sxony, Germany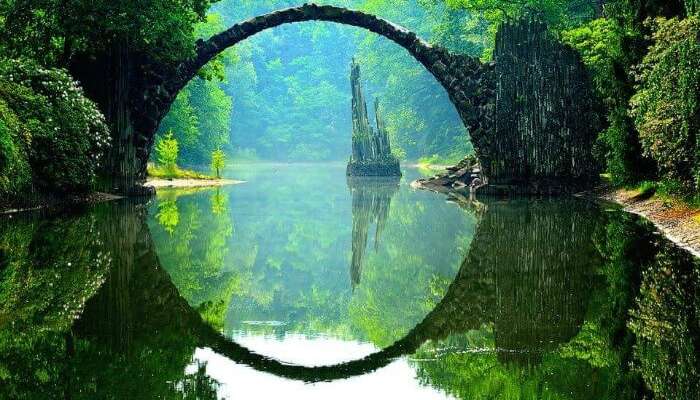 image: Travel Triangle
The bridge was built in 1860, built in such a way that the structure and its reflection in the water form a perfect circle from any point of observation.
---
7. The Neon Boneyard
Location: Las Vegas, Nevada
The boneyard's entire raison d'être is to preserve iconic signage from Vegas. At sunset, 200+ unrestored signs illuminate, along with a slew of restored ones that are on all the time. The boneyard is used for photo, video, and movie shoots, too. You can visit the website here.
---
8. Eternal Flame Falls Park
Location: Orchard Park, NY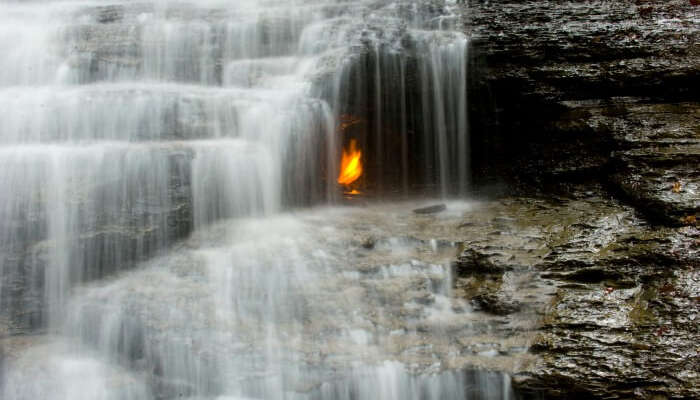 image: Travel Triangle
The falls are flowing over shale that was deposited during the Devonian Period. The decomposition of the organic matter affected by these deposits have created natural gasses that are under pressure and escape through cracks in the layers. The Eternal Flame is in a small grotto that is protected by the water and wind, which allows it to sustain flame. You can see more pictures here.
---
9. Santa Claus Village
Location: Lapland, Finland
You can stay in a beautiful log cabin, an ice hotel, a glass igloo, or even in a village cottage. And then you can visit, year-round, the village. There's all kinds of things to do, plus shopping and dining, too!
---
10. Unclaimed Baggage
Location: Scottsboro, Alabama
image: Buzzfeed
It's a thrift store… for unclaimed baggage. After three months of searching for the owners, Unclaimed Baggage purchases the bags from airports and other transportation all over the country. Once they get the bags, they unpack them and examine what's inside. Then it gets sorted: resell, repurpose (donate), recycled (disposed of). Jewelry and luxury items are authenticated and appraised, and everything is cleaned. You can even shop online now.
---
11. The Bottle Tree Ranch
Location: Route 66, near Oro Grande, California
image: Elmer's Bottle Tree Ranch
The art installation was created by Elmer Long, who passed away in 2019. He was a Marine who began the collection with found glass bottles and items found in the desert, turning waste into something beautiful. The site has also been used for scenes in a horror movie. I've been here, and it is beautiful. When the wind blows, metal wind sculptures tap the bottles, making them chime, and the bottle whistle.
---
12. Musical Route 66
Location: Route 66, east out of Albuquerque, New Mexico, mile markers 4-5
Route 66 from Albuguerque to Tijeras is fairly desolate, litter more than a few of gas stations. But there is a quarter-mile stretch that sings "America the Beautiful" as you drive. As long as you do so over the rumble strips at exactly 45 mph. Engineers used math to figure out the distances between each strip in order to create the proper pitch when a tire drives over it. The science of vibrations!
I've been here and it is amazin!
---
13. Lily Dale
Location: Lily Dale, New York
image: Only in Your State
Lily Dale is a small town in Western New York. It's a gated community with a population of about 200 residents year-round. And almost all of them are some type of medium. It is a spirtualist community, and in order to live there, you must pass a series of tests given by officials from the Lily Dale Assembly. Visitors from all over the world flock here for classes, shopping, services, lectures, and appointments. Well-known guest mediums often come here, as well as some of the members of TV's Ghost Hunters team. I've visited Lily Dale a number of times, and I love it!
You can read more about Lily Dale here.