play along here
I thought I'd deep-dive my maiden name today and explore all things "Ingram." Some are related, most are not! And some aren't people at all!
---
1. Ingram, Texas
When I was stationed in Texas back in the early 1990s, I happened upon Ingram, Texas. Somewhere, there is a photo of me with a different town sign. Something notable about the city… there is a replica of Stonehenge, as well as the Easter Island heads, here. They were moved from a private property in Hunt, Texas. When the owner, Al Shepperd, died, they were moved to the Hill Country Arts Foundation, of which Shepperd was a patron. It took nine months to build Stonehenge II, which is 90% the height and 60% the width of the original. The Easter Island sculptures are 13′ high.
---
2. USS George W. Ingram (DE-62)
The USS George W. Ingram is a decommissioned (15 January 1947) Buckley-class destroyer escort. It was launched on 8 May 1943 and commissioned on 11 August of that year. She was a convoy escort and made 5 round-trip trans-Atlantic voyages. She also escorted other vessels damaged during the Normandy Invasion. That convoy was attacked by a German U-boat, during which one vessel was sunk. She was stricken from the Navy List on 1 January 1967.
---
3. Seaman George Washington Ingram
The above ship was named after this sailor. He was KIA during the attack on Pearl Harbor. He was attached to Patrol Squadron 12 at the Kaneohe Naval Air Station. He was one of the first to respond when the Japanese bombers hit Pearl Harbor. He was only 23 years old.
---
4. Verner M. Ingram, Sr.
This guy is related to me! It's my grandfather. He was a lawyer, as well as a New York State Assemblyman from 1957-1966. His big claims to fame were being part of the development of the St. Lawrence Seaway and for the creation of the BOCES (Boards of Cooperative Educational Services) in New York State, which offers a wide range of vo-tech-type programs for high school students. He was also a founding member of the Potsdam Volunteer Rescue Squad in 1955. They started with a single resusitator, and their first ambulance was a 1936 Buick that had been donated by a local funeral home that was kept in the garage of one of the members. The first call was for a man having a heart attack on 1 October 1955. Now there are 50+ members with a call volume of 1800+.
---
5. Cliff "Raven" Ingram
Raven was one of the pioneers of Japanese tattooing in the United States. He founded the Chicago Tattoo and Piercing Company, and it is the oldest, continuously running studio in Chicago. He tattooed Ringo Star, Cher, and a slew of other celebs during his run.
---
6. James Ingram
R&B singer James Ingram was all over the radio when I was a teenager. Sadly, he died of brain cancer on 29 January 2019.
7. Mark Ingram, Jr.
This Ingram is a running back for the Houston Texans. He also played for the Baltimore Ravens and the New Orleans Saints. In 2009, he had the distinction of being the first University of Alabama player to win the Heisman Trophy. He comes by his skills naturally. His dad was a wide receiver for the New York Giants, the Miami Dolphins, the Green Bay Packers, and the Philadelphia Eagles.
---
8. Rex Ingram (actor)
Rex Ingram was an actor. One of his notable roles was as Jim in The Adventures of Huckleberry Finn (1939). He was also a graduate of Northwestern University's medical school (class of 1919), and he was the first African American man to receive a Phi Beta Kappa Key.
---
9. Rex Ingram (director)
This Rex Ingram was an Irish director/producer/actor/writer. All but one of his movies were silent. The one "talkie" was Baroud and it wasn't a success. After its release, he left the movie biz and became a sculptor and a writer. He has a star on the Hollywood Walk of Fame.
---
10. Vernon Ingram
Vernon Ingram fled Nazi Germany with his family when he was only 14, as they were Jewish. During WWII, he worked at a chemical factory that manufactured drugs for the war effort, going to school at night. His subsequent studies and research led him to discover the biochemical cause of sickle cell disease. His wife, too, was a researcher who studied Down Syndrom and Alzheimer's Disease. Asteroid 6285 Ingram was named in their honor.
---
11. 6285 Ingram
The above mentioned asteriod was named on 2 March 1981 in Siding Spring, an observatory near Coonabarabran, New South Wales, Australia. It has a diameter of roughly 4.4 kilometers, or 2.7 miles. It was discovered by Schelte J. Bus, an American astronomer who is currently at the University of Hawaii's Institute for Astronomy, as well as the Deputy Director of NASA's Infared Telescope Facility at Mauna Kea… a HOTLY contested situation in Hawaii right now.
---
12. Charles Ingram
This Ingram I don't want to claim. He is a former major in the British Army. His claim to fame is that he was busted for cheating on the UK show Who Wants to Be a Millionaire?. He was convicted for "procuring the execution of a valuable security by deception." In 2003, he was convicted for an unrelated offence of insurance fraud.
13. Nicholas Ingram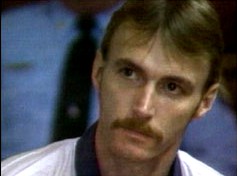 I don't claim this Ingram either. He was executed in Georgia in 1995 for the murder of J.C. Sawyer. There was quite a bit of controversy over his execution. During an attempt to halt the execution, his defense team argued that had only recently learned that Ingram had been heavily drugged and medicated by prison officials during his trial. They argued that that meant he wasn't able to properly assist in his defense. They also argued that the drugs affected his personality, and his ability to show regret and remorse, which might have swayed juries in their decision to recommend the death penalty. In addition, they argued that his trial lawyers had not been told of a diagnosis of psychiatric issues that would have altered how the case was tried, They lost.