Today's list is all about TV shows of the past, some old and some OLD. My hubby and I were talking about a couple of these last night, hence the topic choice!
---
1. Hee-Haw (1969-1992, 1996-1997)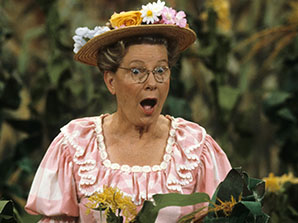 Okay, don't judge me. But I loved this show as a kid. For those not in the know, Hee-Haw was a variety show that took place in the fictional "Kornfield Kounty." It was hilarious, and I loved Minnie Pearl. It had a slew of famous guest stars like Loretta Lynn, Tammy Wynette, and Garth Brooks, to name a few.
Where to watch: Roku.
---
2. The Addams Family (1964-1966)
The OG TV show is my my favorite of the franchise. Carolyn Jones as Morticia was golden. I love that Thing is listed as "Itself" on IMDB!
Where to watch: Amazon Prime
---
3. Nip-Tuck (2003-2010)
Such a dark show that was hard to watch sometimes, but it was absolutely engrossing!
Where to watch: Hulu
---
4. Happy Days (1974-1984)
This was such a great show, initially created to be centered around Ron Howard's character, Richie Cunningham. But when ratings began to fail in the second season, the focus began to shift toward Henry Winkler's Fonzie. The show touched on topics that were often considered controversial for the time. There were so many great guest stars like Hank Aaron, Tom Hanks, and Morgan Fairchild. There were also a slew of spin-offs… Laverne & Shirley, Mork & Mindy, and Joanie Loves Chachi.
Where to watch: Paramount+
---
5. M*A*S*H (1972-1983)
Hands down, one of my favorite shows ever. I loved the book and the movie, but the TV show is my favorite. It's such a great cast with engrossing storylines. It was a fantastic series that combined drama with humor in a great way. I own the entire series on disc and watch it regularly.
Where to watch: Hulu
---
6. The Bionic Woman (1976-1978)
Lindsey Wagner played Jaime Sommers, a pro tennis player who had been injured in an accident. She was implanted with bionic implants, hence the story line. She was the epitome of a strong female character, and I loved her!
Where to watch: NBC.com
7. A Different World (1987-1993)
This was a spin-off of The Cosby Show, initially set around Denise Huxtable. Later it focused on Whitley and Dwayne. It hit the hard issues of race and class relations, and it was so good.
Where to watch: HBO Max
---
8. The Golden Girls (1985-1992)
Is there a more iconic show than The Golden Girls? It had an older main cast than most shows at the time, making it popular with an older demographic. But the show was universally good, so it appealed to all ages. I still watch in reruns on TV.
Where to watch: Hulu
---
9. Miami Vice (1984-1989)
If nothing else, the show changed men's fashion. T-shirts with suits and dress shoes with no socks. It was a thing! I loved this show so much!
Where to watch: NBC.com, Hulu
---
10. ER (1994-2009)
This is such a great show. I own the entire series on Blu-Ray, and I binge-watched it during the Coronapocalypse. So good!
Where to watch: Hulu
---
11. Melrose Place (1992-1999)
Was I obsessed? Yeah, I was. This was the spin-off of the OG Beverly Hills, 90210, with which I was also obsessed!
Where to watch: Hulu, Amazon Prime
---
12. Charmed (1990-2006)
I loved OG Charmed, not so much the reboot. I own the entire series and rewatch it A LOT! Great show!
Where to watch: Hulu
13. Beverly Hills, 90210 (1990-2000)
As I said above, obsessed. I loved this show. I still do!!
Where to watch: Hulu, Amazon Prime, Paramount+
---
Honorable Mentions
(mostly, but not solely) because I couldn't find a way to watch them online)
Northern Exposure
The Ren & Stimpy Show
Chicago Hope
Welcome Back, Kotter
The Facts of Life
St. Elsewhere
Three's Company
True Blood
Alice
CHiPs
Friends
Bones